Profile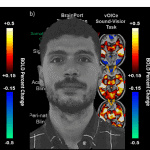 Vassilis Sideropoulos
Curriculum Vitae
Current Job

PHD Research Technician
What question could we try to answer together?:

You all feel sometimes that you cannot focus in class or in a movie theatre and pay attention to the teacher or the movie, right? This is what I am interested in exploring with you. Understanding how our human brain is overloading and takes specific information into processing and how it "throws" other away depending on the environment we are.

Specifically, I am interested in exploring with you how visual patterns, like the ones you can see below, make your attention better or worse.

See images here:

this is an illusion room and it is a very busy environment 

this is another illusion, but it's easier compared to the one above:

and then we have this type of environments that are very relaxing and it's easier to focus on doing specific things, e.g. watch a football match

What do we already know about this area?:

I have done some work in that area and we already know that very busy patterns can make our attention and then memory worse. For instance when participants had to solve problems and look at this image their focus was very bad (see below). But when we used a less complicated pattern (see below) their attention and ability to remember what they did was better.

when people had to solve math equation in this background they performed poorly: 

but in this one they performed much better:

What do I need help with from students?:

Hurray! I need your help to do this project!

Decide together if we want to use illusions as visual distraction (busy images) or other images that you believe make our attention worse.
Decide together if we want to use a specific task that people will perform during the presentation of the image
Finally, I want you to design a few of the materials for the experiment (your own illusions  or busy environments) and tell me what distracts you in different places (school, home, garden)

Why you should vote for this project::

This project is going to be a fun project, you will explore a variety of different visual illusions and you will have to think about different things such as "why can't I pay attention to this class? is it because it's small and it has a lot of things inside? I really like the teacher and this topic." You will also think about how you interact in different environment and how this influences your attention and then memory. Isn't that amazing?!

My Work: Think about how you interact in different environment and how this influences your attention and then memory.

My Interview

How would you describe yourself in 3 words?

Ambitious, Methodical, Confident

What or who inspired you to follow your career?

My High School Biology Teacher inspired me to follow a career in Experimental Psychology

What was your favourite subject at school?

I loved most of the taught subjects at school, but I was really interested in Science subjects (Biology, Psychology and Computer Applications)

Were you ever in trouble at school?

Never, but my friends did!

Who is your favourite singer or band?

Florence + The Machine (check them out)

What's your favourite food?

Pizza! Who doesn't love pizza?!
---
---