Profile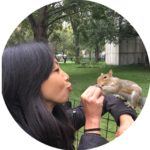 Pizza Ka Yee Chow
Curriculum Vitae
Current Job

Postdoctoral Research Fellow
What question could we try to answer together?:

Would you like to know how clever your pet is (if you have a pet) or the animals that frequently visit your garden? or those that live in urban parks? if so, I would like to invite you to:

develop several 'IQ' tests (designs and measurements) for them/ change some parts of the available 'IQ' tests in primates, bees, squirrels, and parrots

and 2) test them out for your pet, garden visitors and wildlife!

What do I need help with from students?:

Let's do these together:

Choose three-four species before designing any tests
Decide what tests would we like to carry out (colour learning? shaping learning? innovative problem solving? symmetric/asymmetric pattern learning? or concept like 'more than' or 'less than'? etc)
Design the tests
Test out the tests at home, at your garden or at parks 🙂

Why you should vote for this project::

Because we will get time to interact with animals while understanding what is in their little head! Knowing what they think will help us to understand ourselves better too!

My Work: Would you like to know how clever your pet is?

My Interview

How would you describe yourself in 3 words?

Energetic, fun, interesting

What or who inspired you to follow your career?

Animals

What was your favourite subject at school?

Philosophy

Were you ever in trouble at school?

I was a problematic kid who always disturbed other kids during lessons!

Who is your favourite singer or band?

Coldplay, ACDC

What's your favourite food?

Chocolate!!
---
---