Students! Help us decide which scientists and engineers should take part in the next event, and you could win a £20 voucher. All you need to do is take 2 minutes now to judge these 12 sentences.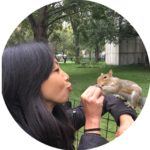 I feel honoured that students have chosen my project and me! A big, big thank you for the students who like the project! I also thank the I'm a Scientist team who supported and organised everything smoothly. I had fun chatting to and sharing my work with you all for two weeks!
Doing online science engagements could be a challenge for me – I need to communicate my thoughts clearly and effectively with people without having two crucial elements of face-to-face interaction, facial expression and body gesture. By participating in I'm a Scientist, my aim was to increase your interest in understanding animal intelligence and behaviour and the ways to study it. I have to admit that some questions asked by students were challenging and some even made me step back and rethink about my scientific work – I thank those students for these inspirational questions and conversations!
Non-human animals are fascinating, and there are many ways to understand what is inside their little head. Regardless whether you would choose to become a scientist, I hope the Enquiry Zone project will allow you to get a first-hand experience to design and carry out an experiment with wildlife/your pets (if you have one) and not least, spend time to observe and take notes about how another species that seemingly look so different from us may have similar to or different from us as they navigate the world – it should be fun! Remember, being patient is the key!
Teachers
The next stage of the Enquiry Zone will be for us to send you Pizza's draft lesson plans for carrying out the project, so that you can read through them and give your feedback.
Watch out for emails from us about the project and related activities in the next few weeks.
---